Today I bought these
Fairytale Mixups Creative Story Cards
for my almost-3-year-old niece. Who would have guessed that she would love these? She did. She instantly (and without any directions or help) began using the picture cards to make up her own stories. She then preceded carry them around everywhere and play with them for the next hour or so. How wonderful is that?
As I literacy specialist, I know that activities like this are helpful for preschoolers to build important literacy skills before they enter school. Yeah for literacy! These cards encourage vocabulary development, foster creativity, help a child to understand character and story elements (beginning, middle, end, climax, etc...), and give a child the biggest gift of all- enthusiasm about stories.
If you're looking for a good birthday present go-to, or a fun, yet educational, rainy day activity for a wee one- these cards would be a fantastic choice. I am also thinking of picking up a set of these for my students that are learning English; they would be perfect to encourage speaking in complete sentences, using new vocabulary, and so much more. These cards would also be great for Speech Therapists or Special Education Teachers.
Here's the Amazon description, and a
link to the Mystery in the Forest Card
s:
Mystery in the Forest A set of cards featuring beautifully illustrated and intriguing images, providing the components for children to make up their own stories, or to aid adults in creating spontaneous stories. Thematically linked but open-ended images spur the imagination and become the catalyst for creativity. Instructions included.For ages 3 and up. 36 flash cards with 36 different images Each measures 3x4 in" Matte lamination on the front helps to keep them durable Instructions included for a variety of games and activities Sliding tray box for easy storage Oppenheim Toy Portfolio Best Toy Gold Seal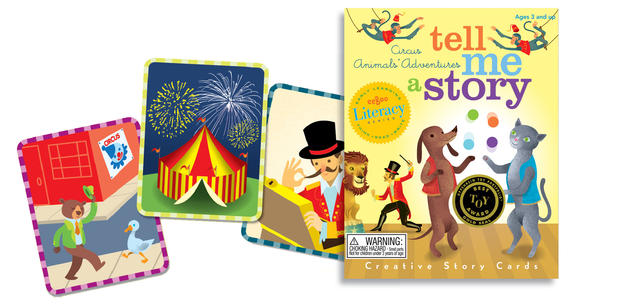 Read On!